Plates
Customizable
for funeral coffin
Royal Plate Simple innovations that transform things
The quality of the products that lasts over time and the attention to detail divided by models. Outside of the classic concept of engraved plates, Royal Plate allows you to create an elegant and sturdy coffin plaque through the tools you already have in the agency. You don't need to buy expensive and sophisticated engravers, just use the laser printer you have available. Thanks to our system, we do not just write the name of the deceased or an aphorism, but we can insert the photo of the extinct and add decorations decorations in color.
Helped by our dedicated software, we can make a plate in minutes.
With our Royal Plate plaques for funeral coffin, you will optimize the work of your agency by offering a great product.
Our plaques for funeral coffin
Dedicated software for printing of plaques
Royal Plate has decided to create a dedicated software for printing its own license plates. These lighten the processing process during printing. You don't need to be computer experts or test printers, with the Royal Plate software just enter the data of the deceased, the photo and if you want, choose a decoration or an aphorism, and everything is ready. In fact, the software automatically generates graphics for the license plate, you can then make manual changes if you want: change the font, enlarge and reduce the photo, change the color of the font or change the position of the images. A few seconds and you are ready to print. Only one laser printer is required for printing.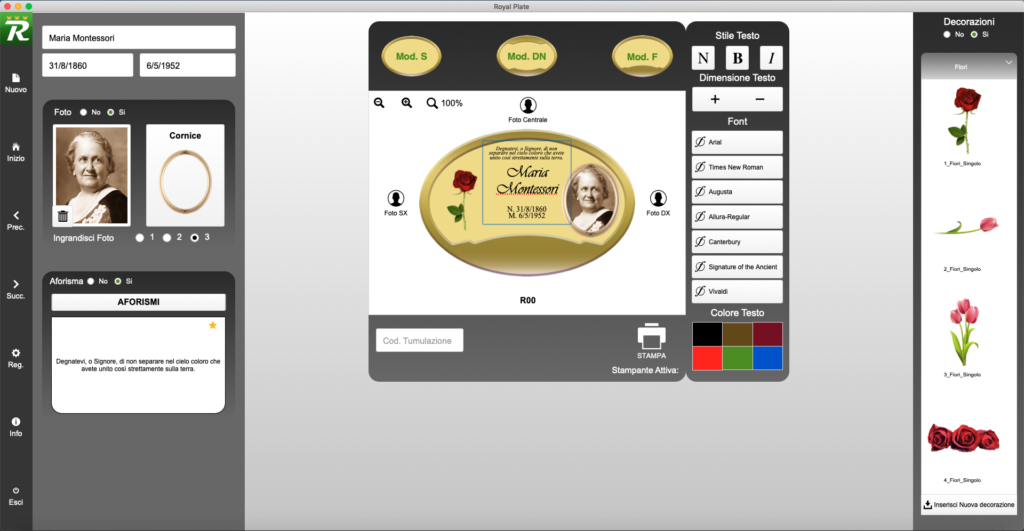 Royal Plate Software and License Information Service Page.